Installing a Drainage System in Bloomfield Hills, MI
We're here in Bloomfield Hills installing a yard drainage system and I want to talk about what we do in cases where we have to run any drainage under a driveway. I don't care what you're de-watering, whether it's a sump pump system, whether it's a roof runoff system, whether it's a French drain, whether it's a yard drain. What do you do when you're going to be driving over top of your drainage system?
I'm going to show you a sump pump discharge line ran in the same trench as a roof runoff system. The guys did a fantastic job. We have a six-inch pipe for the sump, and then we have a four-inch pipe off of just one of the downspouts in the front of this home. We have many downspouts. We have a six-inch trunk line that all those four-inch pipes are going to tie into. We're going to take that water all the way down to the swale at the road.
The guys took a six-inch Y, and they had to put a reducer to get down to the four-inch, but they had to cut a piece of six-inch pipe and put it in the Y to get the reducer, a four to six reducer, to fit. We had plenty of room. They were able to dig with ease right here. Nice big hole, super DIY friendly when you do something like this.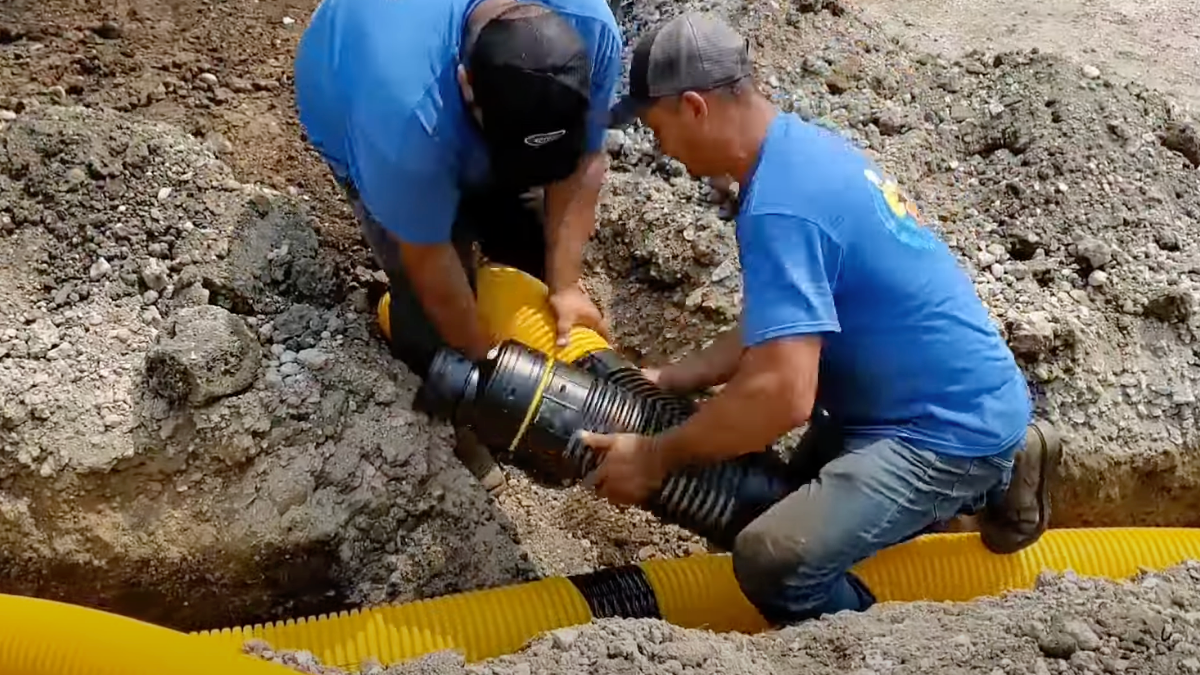 For sump pump discharge, we have some four-inch that runs to the six-inch main for the roof runoff. Now, Chris is going to backfill this. Make sure you do this right. No big, giant rocks.
This is Bloomfield Hills, Michigan. Beautiful state home, beautiful property.  Look at the roof on this house. Look at all the roof runoff we're catching. When you're catching a lot of roof runoff, I don't care if you just have two or three drops, you want to go to a six-inch if it's a really big house.
When you talk about six-inch versus four, you think, oh, it's only two inches difference. But let's look at the size of that pipe. No doubt we're going to do everything in six-inch on this house. We did 600 feet of French drain, we got two pumps in the back in the patio, the pit patio.
Yeah, there was a lot going on here. It was a really fun job. I just got to give a shout out to AM Landscaping for bringing us in on it, and trusting us with their client. And we definitely didn't hold them up. They called us, showed us the flood pictures. The home literally took on a lot of water inside the basement. It was pretty bad.
We did an emergency call. We're there for a day, got back there a week later to get all this ran so we didn't slow up the brick paving process. So we work very, very well with all contractors.
Notice how the guys put dirt just in spots. They shoveled dirt to hold down the pipe. Because you don't want to be pushing dirt in with the track hoe, like Francisco is, and then have the pipes shift all over the place. Sometimes the dirt would fall and then fall down the side of the trench and under the pipe, pushing it up. That's going to create an issue. You're going to end up with a belly in the pipe when that happens.
So Chris and Valente, they shoveled a lot of dirt over top of the pipes in certain areas. And that's just to hold it secure so it doesn't move. Notice how Francisco's able to drive the track hoe on top of these two six-inch pipes and pack in all this dirt. That's exactly what Chris did when he was working that ditch witch back and forth, packing the dirt in.
You don't have to worry about it when you're using the Baughman Tile Company's virgin yellow six-inch. There is nothing in the world stronger than the six-inch, single wall virgin pipe that Baughman Tile Company manufacturers. If you're going to be driving on it, make sure it's the six-inch, single wall Baughman tile.
Need Yard Drainage in Bloomfield Hills ?
If you live in Bloomfield Hills or Northern Oakland County the French Drain Man Crew will provide full service yard drainage solutions including French drains, yard drains, buried downspout, sump systems – basically anything outdoor drainage. Contact our office today by calling: 248-505-3065.