Why You Must BURRITO WRAP Your French Drain for Best Results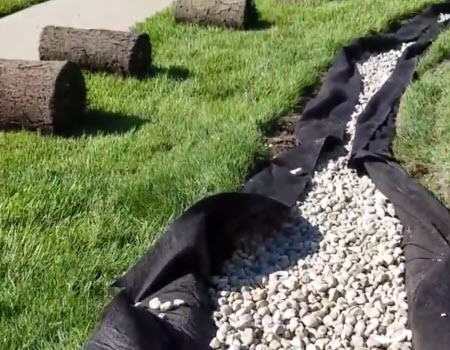 You have to Burrito Wrap your French drain system for success. This is an inch and a half round rock and there are big voids in between all that round rock. Inch and half round rock is the preferred aggregate of the French Drain Man team and we really, really encourage everybody to use round rock for the voids.
Now if you don't Burrito Wrap your French drain system, it will not last forever. You're going to end up having to hire that same "Chuck in a Truck" to come in and take your money again as he tells you "Well, you know, 10 years is good for a French drain", You know? Well, yeah when the dirt is filling those voids that move water, that's what keeps your flow rate up and the more dirt when you don't Burrito Wrap it, the more dirt that fills those voids, you lose your flow rate. That drain works less and less every year until one day. It just won't work anymore.
So the message here is you have to Burrito Wrap your system. All the engineers are telling us this. All the new road construction has done with Burrito Wrapped French drain systems. And yes, here at French Drain Man, we progress with technology. We got the, as you know, the double punch fabric with the highest flow rating.
All right, everybody, until that next video.
Contact Us For the Best French Drain Results in the Industry!
French Drain Man – Michigan's Yard Water Drainage Experts. Masters in the art of constructing contained French drain systems & curtain drain systems that and fix your yard drainage problems for years to come. Over 30 years' experience in solving yard water drainage problems in Oakland, Macomb, Lapeer, and St. Clair Counties.
French Drain Man / Sherwood Landscape Construction, LLC
4015 Van Dyke
Almont, MI 48003
248-505-3065
https://www.frenchdrainman.com
http://www.macombcountylandscaping.com
Follow us on:
YouTube.com:  https://www.youtube.com/c/frenchdrainman/
Facebook: https://www.facebook.com/frenchdrainmanusa/
Instagram: https://www.instagram.com/frenchdrainman