When to Use a Trencher to Install a French Drain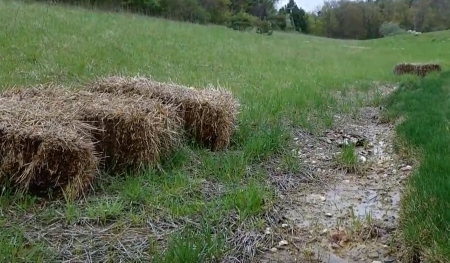 When you look at the amount of equipment we take to install one of our systems, it's asking a lot of a DIY to install a system exactly the way we do and I know that. I mean look at all those trucks and trailers and equipment being unloaded at this job that we're about to start putting in a real serious French drain system.
The ones that could rent the track hoes maybe have a couple of friends with trucks. They can, they can do it for sure and we definitely have a lot of DIYers who have. But I'm going to give you guys some pointers. If if it's too much, I want you to rent a trencher. Yes, I said it. I want you to run a trencher but just put in twice as much pipe.
Now you see that straw bale, that's another good one for you. Until you get your system in, if you've got erosion issues, throw down those straw bales and when the water is coming down sideways during these storms, it'll break that. It'll slow it down our break that water up and that's what you need. You can see how it just cut a groove in the ground. The forces of water are insane. And then the gentleman was cutting his lawn. He got stuck right there. So, you know, that's how I ended up here in this backyard.
But if you're a DIY and you want to knock this out with a trencher and not all those trucks and equipment, you can do it. You want to do several, instead of one giant trench the way we do it, make sure you do three or four back there. Perhaps that's easier for the DIY. And I'm trying to come up with methods to where the DIY can install like us. We're working on it. But for now, in the event that you can't rent a track hoe and it's just asking too much, you don't own a pickup to pull it, you know, it's just all too much. I don't want you to get overwhelmed and end up, you know, bailing on it. So rent a trencher, just do more French drains. That's all.
All right, everybody, until that next video.
=======
Looking for a French Drain / Yard Drain Contractor in Southeast Michigan?
French Drain Man – Michigan's Yard Water Drainage Experts. Masters in the art of constructing contained French drain systems & curtain drain systems that and fix your yard drainage problems for years to come. Over 30 years' experience in solving yard water drainage problems in Oakland, Macomb, Lapeer, and St. Clair Counties.
French Drain Man / Sherwood Landscape Construction, LLC
4015 Van Dyke
Almont, MI 48003
248-505-3065
https://www.frenchdrainman.com
http://www.macombcountylandscaping.com
Follow us on:
YouTube.com:  https://www.youtube.com/c/frenchdrainman/
Facebook: https://www.facebook.com/frenchdrainmanusa/
Instagram: https://www.instagram.com/frenchdrainman