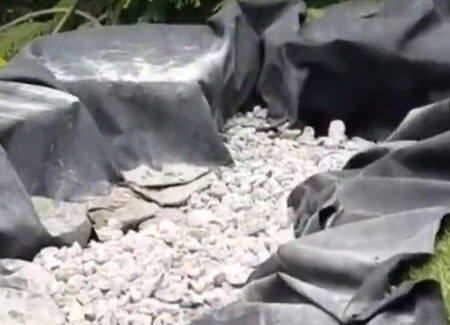 When to Use 8 oz Non-woven Geotextile Filter Fabric
We're running a drainage system behind a natural limestone wall. We want to relieve this wall of any hydrostatic pressures as well as keep moisture from deteriorating the wall. We have a deep trench all the way to the bottom of the wall. On the opposite side, we take an 8-ounce filter fabric. We line that trench. We put our pipe in at the bottom of the wall and we put a three-inch aggregate for drainage stone. We wrap this. It's 100% contained.
Looking for a French Drain / Yard Drain Contractor in Macomb / Oakland County?
French Drain Man – Michigan's Yard Water Drainage Experts. Masters in the art of constructing contained French drain systems & curtain drain systems that and fix your yard drainage problems for years to come. Over 30 years' experience in solving yard water drainage problems in Oakland, Macomb, Lapeer, and St. Clair Counties.
French Drain Man / Sherwood Landscape Construction, LLC
4015 Van Dyke
Almont, MI 48003
248-505-3065
https://www.frenchdrainman.com
http://www.macombcountylandscaping.com
Follow us on:
YouTube.com:  https://www.youtube.com/c/frenchdrainman/
Facebook: https://www.facebook.com/frenchdrainmanusa/
Instagram: https://www.instagram.com/frenchdrainman