West Bloomfield, MI: Take pictures when having a French Drain Installed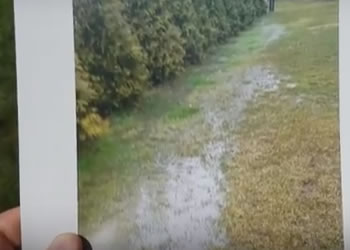 When hiring a professional French drain installer, always take pictures after a heavy rainfall to show him the problem areas. That way when they come out to quote the job, it could be dry, it could be several days after that rain and that water is no longer standing there.
So you're trying to explain the situation Pictures are worth more than a thousand words in this line of work. Always take pictures to show when having a French drain system professionally quoted out. So here we are. This is the first picture that the homeowner had for us. This run takes us out to the street.
This is the end of the system. This picture is the back property line. So, where we are now. Ran the whole length of the back property line. This was a tremendous help, by having the pictures. The homeowner in West Bloomfield was able to just show four, five pictures. Nothing needed to be said.
Then we went right to work on designing Patio system. Patio held water, patio's flat, just like the back yard is, so we devised a system. We're going to pull up five rows of brick pavers, and we'll remove that brick edging that's holding water in. We're going to softly swell the soil to the french drain.
We're going to drain all the water off that patio. Back of the household's water, again this yard is extremely flat, so We piped right up to the back. There's an end cap. We're going to grab the water, drain all that water out of there. Always take pictures of the problem areas after heavy rain to show the French drain installers.
For More Information on a French Drain Installation in West Bloomfield, MI
When it needs to be done right the first time, give us a call at 248-505-3065.
Sherwood Landscape Construction LLC
122 S Rawles St
Romeo, MI 48065
Ph: 248-505-3065
French Drain Man
"Yard Water Solutions"
www.frenchdrainman.com