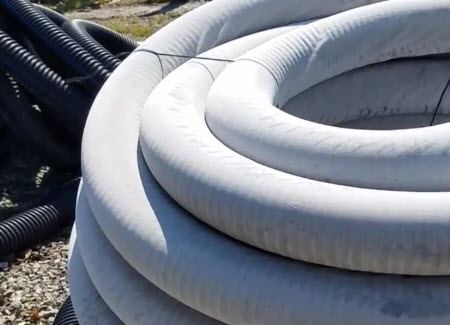 The Correct Way to Use Filter Wrapped Pipe in French Drain Systems
There is a lot of talk about a pipe with a sleeve or sock on it. A lot of controversies out there. So I want to clear it up right now. If you have an aggregate that has a lot of fines in it, not dirt, I'm talking fines of the stone. So you got crushed down. It's got a lot of crushed stone fines. Those will plug your inlet on your Baughman High Octane, whatever it may be that you have for the perforated pipe. So you want to use a sock. But if you don't wrap the stone to separate the dirt from the stone, it's just going to fail. And we're going to show you some failed French drain systems. I just wanted to explain to you guys how you use that. You still burrito wrap your system.
So here's a failed French drain. You can see the pea stone is all mixed in with the subsoil. The water couldn't get to the pipe. That was it. It didn't work anymore.
So here's a pipe, perforated with a sleeve or sock on it and it had stone around it but they didn't wrap the trench. You have to wrap the stone and pipe as one. If you want to use a pipe with a sock on it, because you have stone fines and you can see the stone fines in the stone that you purchased, that's a different story.
So, typically I would say it's redundant to use a wrapped pipe and then burrito wrap the whole system. But if you see that you can only get crushed stone, you can't get a round rock. I like natural stone, round rock. It comes dirty but the dirt washes right through the inlets on the perforated pipe and you don't need the sock. Some people say the only thing they can get is a crushed stone so in that case, you might have to use a sock on your High Octane and then burrito wrap it.
We're working on a job that has two failed French drains. So they've lived here 18 years and the French drains that they have installed, keep failing. And I wanted to go over why.
Okay, so this is your three-slot staggered and they used a filter fabric on this pipe. It's polyester. And you can see the pea stone. And you can see the pea stone and how it migrated into the subsoil and the subsoil migrated into the drainage stone. And look, there's dirt. That polyester filter, soil separator, didn't really do that good a job.
We always preach, wrap the entire trench, stone and pipe included. Use a good pipe with a lot of inlets and use great fabric. This is a DOT approved fabric. We had to tunnel underneath the fence to get to the storm drain catch basin. So being a yard drainage contractor isn't sexy and ain't glamorous and, yeah, it's muddy and sometimes it's not pretty.
Here are two different pipes from two different attempts at this. Here's that polyester soil separator on a three-slot staggered pipe. This one was white originally. This one is black. So we found both failed systems. This one has some dirt in it too, but you couldn't get the water in the pipe anyway because they didn't wrap the trench and separate the soil from the drainage stone.
For a French drain system built right the first time. Give us a call.
Looking for a Yard Drainage Contractor in Oakland, Macomb, Lapeer, and St. Clair Counties?
French Drain Man – Michigan's Yard Water Drainage Experts. Masters in the art of constructing contained French drain systems & curtain drain systems that and fix your yard drainage problems for years to come. Over 30 years' experience in solving yard water drainage problems in Oakland, Macomb, Lapeer, and St. Clair Counties.
French Drain Man / Sherwood Landscape Construction, LLC
4015 Van Dyke
Almont, MI 48003
248-505-3065
https://www.frenchdrainman.com
http://www.macombcountylandscaping.com
Follow us on:
YouTube.com:  https://www.youtube.com/c/frenchdrainman/
Facebook: https://www.facebook.com/frenchdrainmanusa/
Instagram: https://www.instagram.com/frenchdrainman