Michigan Sump Pump Installation in Patio
We're installing a sump pump system in Michigan that is in a pit patio. There was a drain in the center of this patio and it always got blocked and it would end up flooding causing the water to end up in the basement. We're going to do something a little different. I want to buy the homeowner a little more room. If there are any issues whatsoever, I want the water to be able to fill up in that corner of the patio.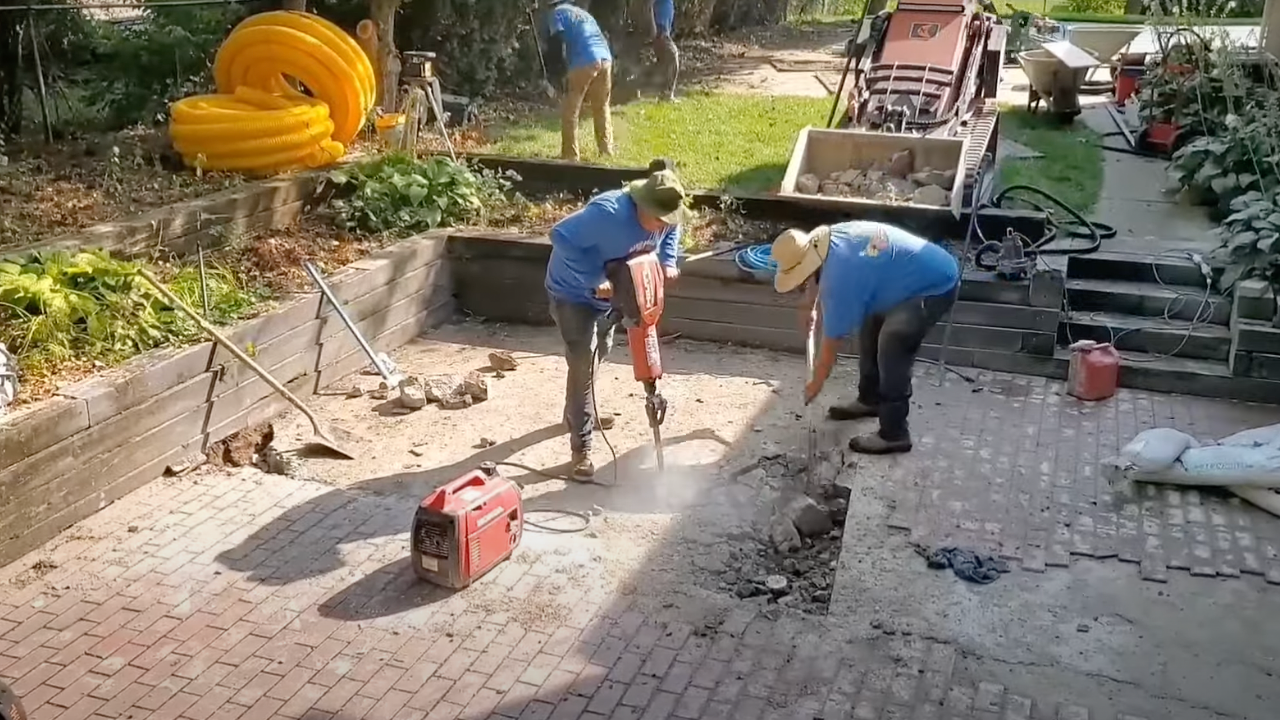 If there's a power outage and the outdoor sump pump can't run, I want the water to be able to build up. I need create onsite storage, and that's what we're going to do.
So we're busting out this concrete and we're going to put an outdoor sump pump in that corner of the patio. We're going to discharge that water uphill. We're getting through all these tree roots here. We're going to get past the pool. Then we're all set. It's downhill from there.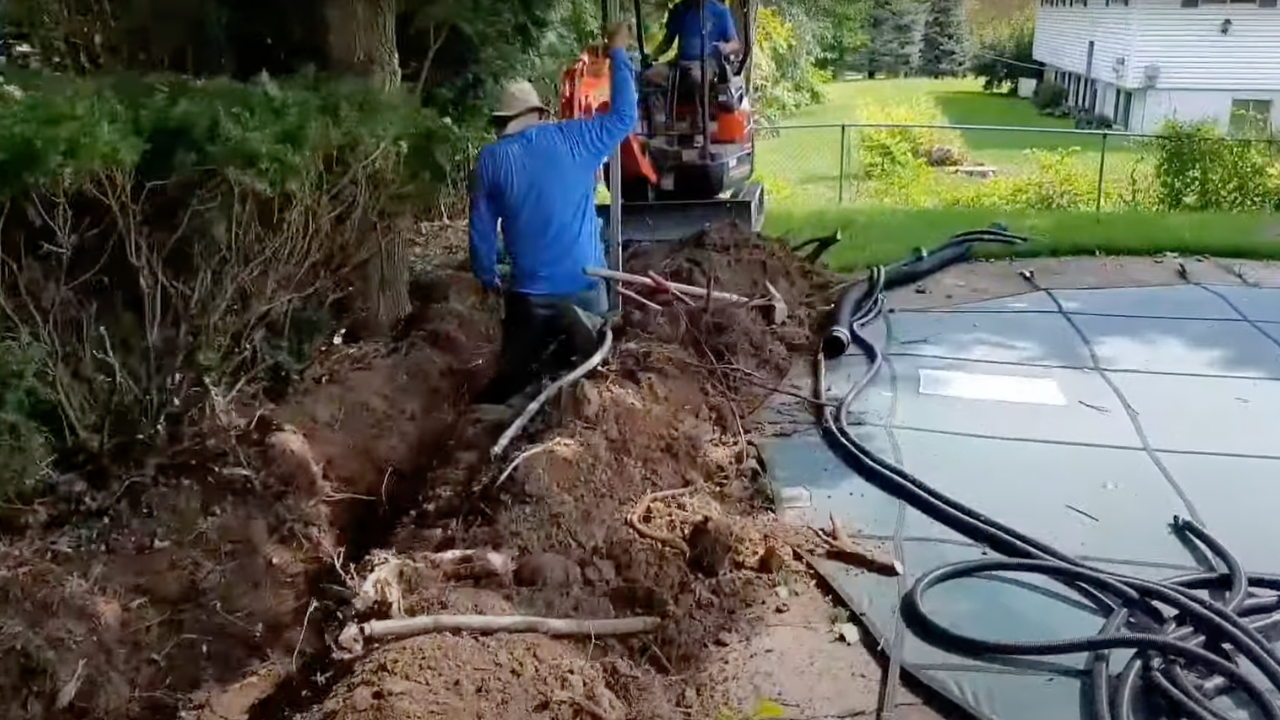 We're also going to run the basement sump pump discharge line to our outdoor sump pump and roof runoff, some gutter drains. We're going to run some gutter downspouts to it. We dug our pit and we sized it. We're going to put in a full frame 25 inch Screamin Demon outdoor sump pump system with some added chamber length. We have the sump pump from the basement running to it.
These pit patios, these forced walkouts, you always have to put a pump in them. There's our Screamin Demon outdoor sump pump. Here's our discharge line.  We took off all the gutter extensions that were just left laying on the ground unsightly, went ahead and ran them underground. The guys did a great job putting this yard back together again with the tree roots.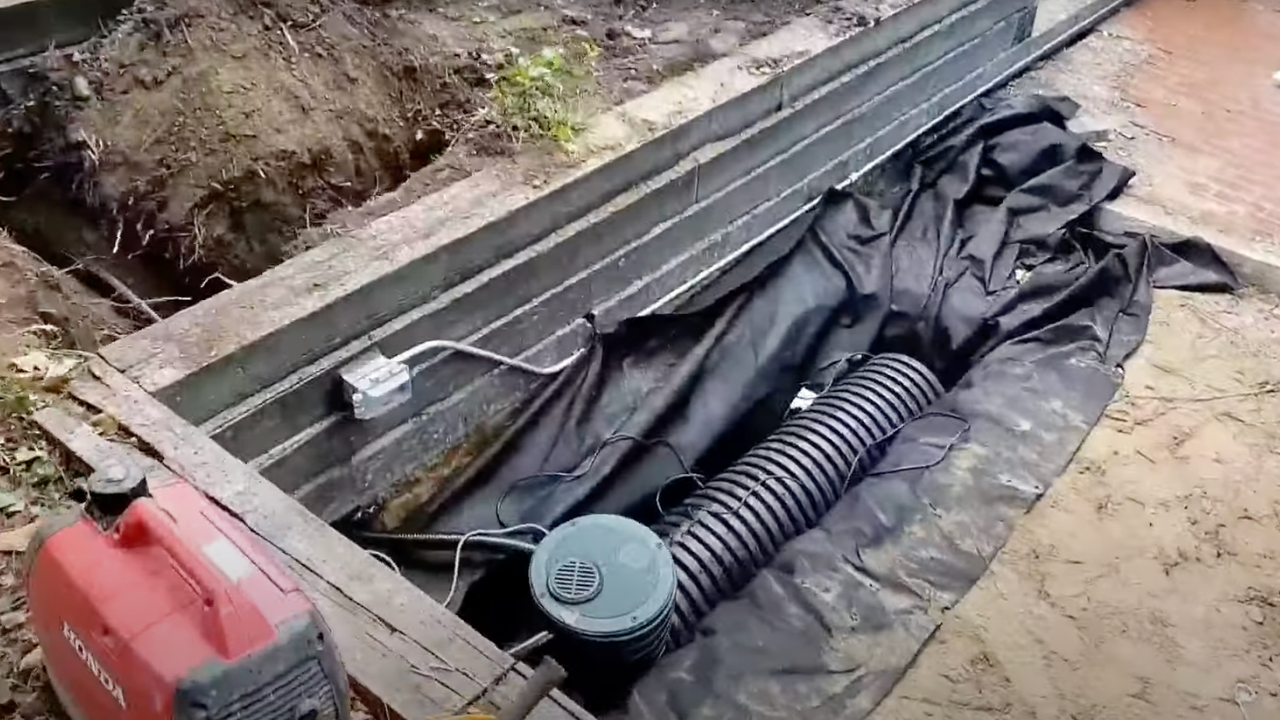 Our outdoor sump pump system has a big chamber added to it as well. It's our patented, blueprinted outdoor some pump system, the Screamin Demon. The guys did a great job right here where that discharge line went through and all those tree roots had to be cut and shopped. Then we just daylight it right here or on the other side of that hill. We get up over that hill, just daylight the water. That's how we're getting all the water out of this yard.
The roof run off, the basement sump pump line, and as well as all the water it collects in this pit patio. I'm going to give you a little bit better look at our patented Screamin Demon 25 inch full frame. You can see that we're going to put stone around it. When they pour the concrete, the water's just going to shed in this area. This is going to just take it in. You can see the discharge line goes up underneath the retaining wall. That's how we did this one. Every Michigan sump pump system we install is different.
Leaders in Michigan Sump Pump Installation
French Drain Man is a Michigan-based sump pump installation company. If you're looking for a sump pump system that's going to outperform any other drainage system on the market give us a call at 248-505-3065.