St. Clair Shores Michigan Curtain Drain – Yard Water Solution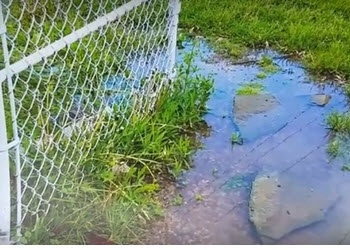 We're in St. Clair Shores, Michigan, building a curtain drain around the home. You can see after heavy rains how the water couldn't exit the yard.
We dig a trench, minimum 14 inches wide, 14 inches deep. This has gone 21 inches deep. 17 inches wide.
You want to catch all the runoff water that's shedding away from the house and pick up all those downspouts.  You want those to pour over the top of the curtain drain.
We want to evacuate that water quickly. We don't want it to saturate or stand.
In this case, there is no storm drain. No infrastructure in that way. We have to exit, by taking this out to the road.
We'll pick up all that water that's being shed off of the neighbor's driveway towards the side of the home and we'll pick up this downspout.
For More Information on a Curtain Drain System Installation in St. Clair Shores, Michigan
To request a free quote on a curtain drain, French drain, perimeter drain, for all your yard water solutions, give us a call at 248-505-3065.