Residential and Commercial Drywells in Macomb and Oakland County, MI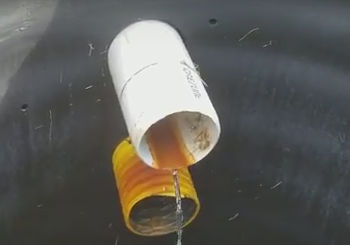 This is a home that had a spring pop up underneath the basement floor.  It's a walkout basement so what we did is we took a drywall. We ran a 130 feet of pipe behind the house where he had two feet of fall. We went six feet deep with this drywell. The deeper you go, the less chance of freeze come winter. You always want to go a minimum of five feet deep here in Michigan so that you don't freeze. You don't want your drywell to freeze.
The spring runs 24/7. We put in a 30 inch diameter drywell and goes down six feet deep. There's no floor. It's just set on a bed of stone. The schedule 40 white pipe that you see there that's tied into the footer tile with a couple of clean outs because they get red oxide in their water and it's going to need to be cleaned out periodically.
The yellow pipe, you see, that's our traditional French drain system. If you subscribe to the French Drain Man YouTube channel, you'll see how we do that. That's our insurance policy and that's below the footer tile, in the event anything should happen. Our French drain takeover.
We have 30 inch rounds, half inch holes drilled from top to bottom soil that percolates very important. If you dig a hole in your backyard, fill it up with the hose, come back to it the next day and it's still full of water. If your soil doesn't perc then a drywells not going to work for you.
We have about foot and a half of water, and again, this runs 24/7. The soil keeps up with it never gets any higher than this.
For a residential or commercial drywell in North Macomb County and North Oakland County, Michigan, give us a call at 248-505-3065