New Sump Pump Options for Homeowners in Oakland County
I'm Robert Sherwood and I want to talk about our patented sump system. I've been a landscape and drainage contractor in Northern Oakland County for 35 years, and used all my experience and knowledge when we developed a patented outdoor sump pump system.
The problem we were having with the traditional sump pump basin was that it's basically just a mini garbage can and it doesn't hold enough water so the sump pump has to run a lot. A sump pump only has so many cycles before it's done.  Every manufacturer tests their pumps and actually have a sump pump life cycle of how many cycles before failure each sump pump has. Simply put, the less your sum pump is turned on the longer it will last.
Traditional sump basins wouldn't allow for an extended life period in a sump pump. That's why we patented our system. Instead of just having a vertical shaft, it has a horizontal shaft that contains more water. Now I always recommend adding more chamber length. You can easily take the end plate off and go ahead and add chamber length. The more chamber you have the more water it takes to turn the sump pump on.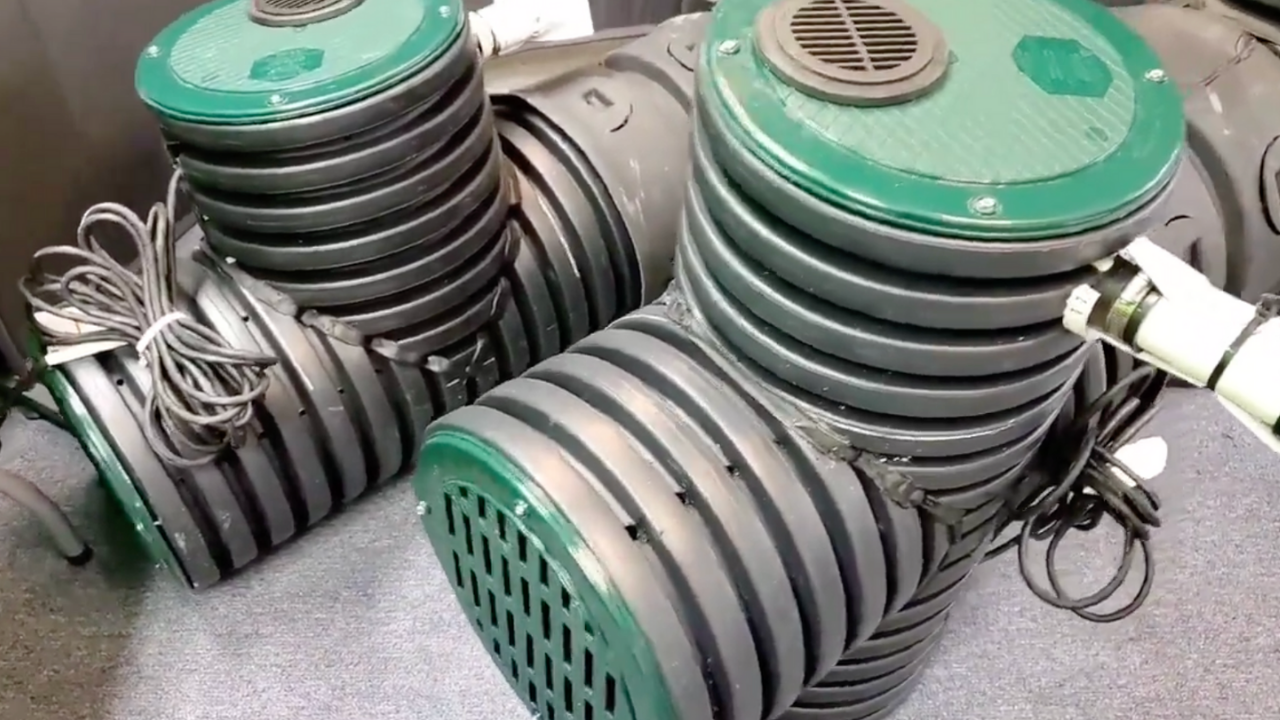 Benefits of Extended Sump Pump Chamber
This extended chamber does two things. For one, it makes you sump pump last ten times longer.
Here's another benefit. It makes it possible to build your system without a check valve. Why is that so important? A check valve is one of the leading causes to extra sump pump cycling. What happens when a check valve goes bad, your sump pump has all this backwash. Because remember a check valve prevents the water from flowing back into the system. So once the check valve fails, and before you know it has even failed, you have backwash going down into the pump and turning the pump back on.  Now the water gets sent and it fills the line. The line is full of water and the pump is turned off. There's no check valve working properly to stop the back flow of water.
Our Bad Seed Sump Pump System with the extended chamber is going to allow you to build it without a check valve.  This way you never lose a sump pump because of check valve failure which is very common.
Need to Replace Your Sump Pump in Oakland County, MI?
If you're an Oakland County homeowner with a failed sump system and you're looking for a replacement, the French Drain Man crew provides full service installations of our chambered systems for local Michigan residents. Or if you are more of a DIYer and want to save money on the install, our systems can be shipped to your door and they arrive fully assembled, allowing homeowners to simply drop it in. It's that easy!
Shop our Chambered Sump Pump Systems
French Drain Man: 248-505-3065