Professional Yard Drainage Contractor Explains How Yard Drainage Works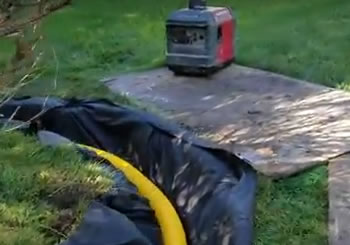 We are professional yard drainage installers, commercial and residential French drain installers. I wanted to go over one of the things that we run into a lot in the areas that we service, which is North Macomb County, Michigan, North Oakland County, Michigan, St, Clair County, Michigan, and South Lapeer County, Michigan.
There's a swale right on the property lines and all the water that's supposed to run off the rooftops off the patio is shed down a sloped backyard, and end up in a swale, and then basically that swale has a slight slope that pitches it towards a storm drain catch basin.
Well, Landscape is one of the things that cause yard drainage problems. It can be fixed. Call us in, we can take care of it. You can still have that beautiful wall of privacy. A lot of times people you know put burms up and put evergreen trees in for privacy and drainage is the last thing they're thinking about. Then a hard rain comes and they got pooling areas of water.
So what we did is we escalate it outright here for commercial French drain system. The French drains systems that French drain installers put in, it's definitely a faster flowing, faster, moving longer lasting French drain then a homeowner would install. you know when you're buying your products from The Home Depot versus the commercial grade materials that we're using.
You can see we're pretty deep. There's the sprinkler lines. They look really shallow, but they're actually deep.  And then this storm drain catch base and it did not have a sleeve. We had a core through 12 inches of concrete and do a tap and a connection.
For yard drainage contractors for all your yard water solutions give us a call at 248-505-3065.