Outdoor Sump Pump – Don't Use Bark Mulch With Your Drainage System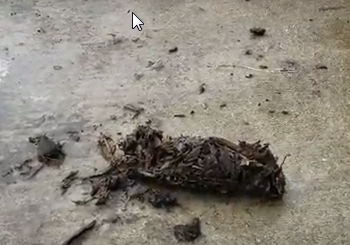 This is as calm as the lake will get right here. The lakes haven't froze this year and they have been extremely angry. We always recommend that you put decorative stone around if you have a system. In this case, when the water comes over the wall, our system had a grate on it and that would basically keep all the water from flooding out the backyard and pump it back out in the lake.
The homeowner, after we did the install, went ahead and bark mulched everything. The entire discharge line is solid with bark mulch. So we had to come out and now you get to see this, the plugs of mulch, all the mulch that was in here. I mean our pumps will pass it. They're pretty impressive, but eventually it just ended up completely solid. There is that much bark mulch going down inside our pit, our lift station.
Decorative stone, that's what we always say to use.  When you see a full landscape that we do (not just the system, but we do the landscape too), we don't put bark mulch on our drainage systems. This is another reason why I always preach about when you can build without an inlet basin, you're far better off.
So here's another great example. If these were like inlet basins in a French drain system in line, you're picking up all this debris and it just plugs the system.
If you're looking for a backyard sump pump system in southeastern Michigan, give us a call at 248-505-3065.