What is an Open French Drain? French Drain System Installed in Algonac, MI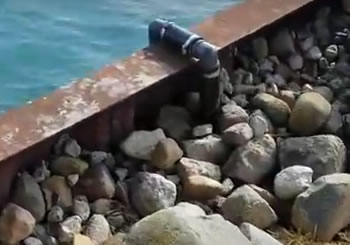 Example of an open French drain. This is a great example of an open French drain. Water comes off the street and just floods the side of the house and the backyard. We dug out all the dirt alongside the house. We put weep tile, drain tile, French drain tile in underneath this open French drain. This is an open French drain. There's no grass growing over the top of it. There's no bark on top of it. The water runs through an open French drain quicker than any other type of French drain where you need to move a lot of water.
In this case, we have thousands of gallons of water coming off the street, flooding the side of this home, and flooding out the backyard. So we excavated all the soil and Put in the drain tile for this open French drain. This is an open French drain.  Then when we got to the backyard, we went back to grass. So we're going to get all that water that comes off the street and it's gonna run right through the open French drain. The French drain continues and it ends up a covered French drain. And in this case, we had to get a pump up over the sea wall so we have a four-foot sump pit with a cast iron pump to take the water up and over the sea wall.
I Want For Information On An Open French Drain!
For a French drain system that stands the test of time, and for open French drains, covered French drains, perimeter drains, and curtain drains, give us a call at 248-505-3065.