Industry Leader in Michigan Pond Excavation
Are you thinking about building or developing a pond?  If you have a large piece of property where you built your dream home out in a rural community, it is very common that you need fill dirt around your home. Why not gain a beautiful pond, to provide recreation for your family and all that dirt that you need?
The French Drain Man team will take care of all the heavy lifting. We'll be able to excavate all the dirt from your home and  relocate all the dirt where it needs to be. Our skilled equipment operators are always focused on safety first, and they highly respect people's property, so you can be reassured to have a great experience with a group of men that are truly professionals at what they do. So give us a call if you're interested in adding onto a pond or just brand new development.  We're the go-to guys when it comes to pond development, detention ponds and retention ponds. If it's a manmade lake you're after, we can even go ahead and develop that for you too.
We have experience with fisheries. We know how to develop a pond and/or manmade lake and stock it full of fish.  And we'll keep it easy and simple for you, the homeowner.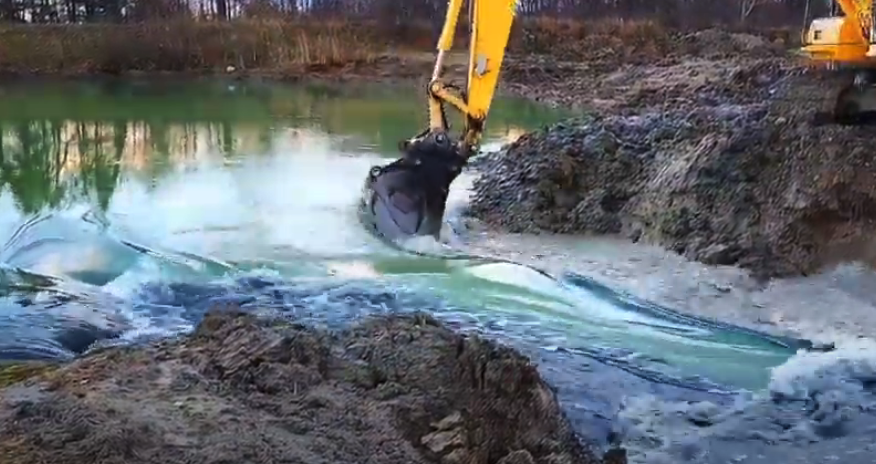 Contact the Pond Excavation Experts
Setting the standards for beautiful ponds and manmade lakes in Michigan, French Drain Man has raised the bar. With 35 years of experience in excavation, French Drain Man knows how to handle a big dirt project. A pond or manmade lake, that is a big dirt project. If you don't hire an excavation company with enough experience and the resources to do it right, it could be one of those things that you look back on with regret.
So don't delay. Give French Drain Man a call today at (248) 505-3065 for development of ponds and manmade lakes in Michigan.