How to Use an Open French Drain for Faster Drainage – Rochester Hills, MI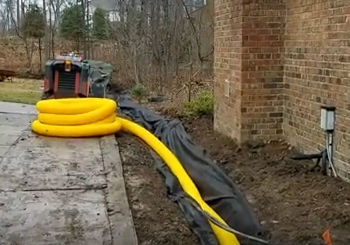 We are installing an Open French drain system in Rochester Hills, Michigan. I wanted to explain to you what sheet water is and why it's the hardest to control.
Sheet water is what comes off your roofs. It's a non-permeable surface, so it builds up water. The water builds up to the point to where it's a sheet of water. Then the water is collected in the gutter troughs.  It goes down the gutter downspout, and in this case, it ends up on the driveway.
Concrete is also a non-permeable surface. You're going to lose no water.  So the water builds up during a hard rain on the concrete.  You have the sheet water off the roof and then you have the sheet water off the driveway. By the time you get to a greenbelt or area to take in the water, the concentration of water is hundreds and collectively, thousands of gallons per rain events.
So this is a 6″ system. We're not able to run a 4″ pipe here. We have to run a 6″ system.  This will be an open French drain.  An open French drain means there will be nothing covering it. You'll just see the stone. We're actually going to stone the entire side of the house between the driveway to the house. This is going to work fantastic. We went ahead and we already ditched everything out.  We removed about 30 yards of fill, ditched it out, went ahead and lined the trench. We got our 6″ pipe in place. When the guys are done taking a lunch, they'll be back and they'll start putting in the stone.
This runs to a storm drain catch basin. Where we're coring a 6″ core to accept our 6″ discharge line. Now this is going to move 550 gallons per minute, and that's an approximate. Of course, the more slope you have, the more water any pipe will carry. But that's a really good general number on a 6″ inch pipe.  You're looking at 550 gallons per minute is what that pipe is going to be able to take under gravity.
Again, the term sheet water it's a collection of water on a non-permeable surface. By the time it gets to a greenbelt area, it's just so much water that you can't collect it in catch basins. It's not going to be a system that you could have a marginal 4″ pipe with some catch basins.
There's been so many attempts at correcting this problem already. This is what it's going to take to get it right to manage this water.  The homeowner has been experiencing water in his basement because of this. There's that much water that comes off this driveway.
For French drain systems, open French drain systems, perimeter French drain systems, curtain French drain systems in Rochester Hills, Michigan give us a call at 248-505-3065.
Subscribe to the French Drain Man YouTube Channel.