How to Maximize Your Yard By Installing a French Drain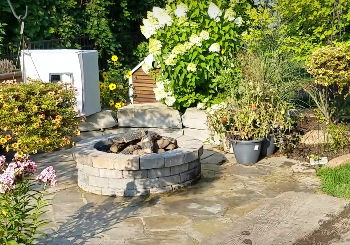 On subdivision lots when we're trying to maximize our outdoor living space and maximize the use of our yards, a lot of times we can encroach on the soiled areas where water is designed to collect and run to a storm drain catch basin.
Here the homeowner is done elevated planter boxes for the gardens; created a beautiful landscape, an area to sit by a fire. All this happened to be built in the swale, so that's okay. A French drain is the answer. Make use of your backyard. Go ahead and build in your drain easement, but then in order to be able to mow the grass and your green belts, in order for it not to be saturated, you have to dig a French drain. You can see how deep we are here at the base and we're going to core through the sidewall of that storm drain catch basin.
We want to lower the water table back here so we can't ask the water to come up and into the great of the catch drain. It will just leave the yard still saturated. So we're going to go through the sidewall so we can lower the water table.
For a French drain that lasts forever give us a call at 248-505-3065.  Subscribe to our YouTube Channel.