How to install a backyard sump pump basin in 3 minutes or less!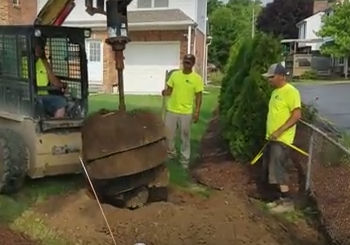 A lot of people ask us how we set a five foot sump pump basin. It's five foot deep. We use a 36 inch auger with extensions.  Put it on a machine that has the horsepower to twist and auger that size, and we can pretty much get that basin in in three minutes. This is how you install an outdoor sump pump basin that's deep for in the north. We're here in Michigan in three minutes.
We have another sump pump basin over here. Large systems a lot of times require two outdoor sumps. The only way you could properly drained the property.
So we just set this one in. Our French drain is running to that.  Anywhere you enter your sump pump basin, you want to waterproof that. In this case we're right on Lake St Clair, so the water table is high. We don't want to be recirculating lake water and running this pump continuous.
For more about the tricks that yard water contractors use outdoors sump pump installations, perimeter French drains, curtain French drains, and drywells, subscribe to the French Drain Man YouTube Channel.