Connect 4 inch PVC to 4 inch Corrugated Pipe
In this video I show you how to connect PVC to corrugated pipe by using two of our couplers that we have available in our online store.
So let's go over a couple of beautiful couplers in the drainage world. And we're going to show you how to use them. How do you connect PVC pipe to corrugated? Well, we make it simpler, easier, and so much better as far as a connection than any of the other PVC and corrugated fittings.
Okay, so we have a four-by-four coupler, smooth on one side. We call it the cone. This coupler grabs the corrugated pipe, and then it kind of hooks. So I'll show you a perfect example. So here we have that coupler, AKA the cone, is what the guys call it, four-inch by four-inch, smooth wall. It goes inside a pop-up emitter. And what I like about this, it fits in the corrugated pipe really nice.
Now, sometimes the lawnmower messes up a pop-up cover. Things do happen. Sometimes you might need to take this apart. So if there's just a ton of shingle gravel and debris, you didn't use a distribution box, you're going to want this coupler. The coupler actually comes off, and you could easily clean it out, put it back.  So this is the first option.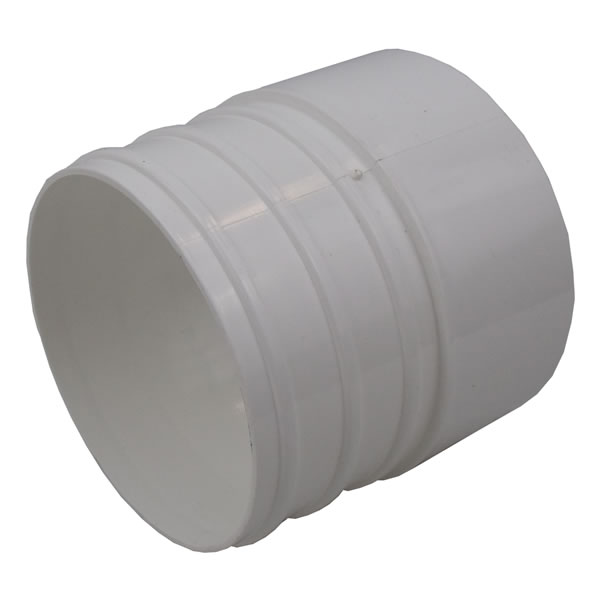 Shop FDM's Corrugated Pipe Adapter aka Cone (4 in. corrugated to 4 in. SDR 35)
Okay, how do you connect PVC schedule 40 to corrugated? We got the answer. Now you're going to want this to be a forever connection. PVC to corrugated usually is. So we have barbs. This is not coming apart, okay? So there's a step here. You can see, this is broader right here. It's a lot broader. Why is this broader? Well, it's also made for thin-wall PVC, the storm and sewer, the schedule 35. So take a look at that.
That is up inside the one that's not as wide of a diameter. The wider diameter over here, it's not in, that's for PVC schedule 44-inch. The thin-wall, that's in this one, right here. So this will fit anything PVC four-inch, whether it's schedule 40 or schedule 35, SDR pipe. So this is a forever. This is different, guys. So when you snap this in, it's not coming apart, guys. You're cutting that out. So that is a really, really good connection.
So these are our two go-to couplers when we're connecting PVC fittings, like the pop-up emitter, connecting that to corrugated. We want to use the cone because we want to be able to take that apart. If it's anything you ever want to take apart again, you want the cone. Now the cone works best in the way that I showed you, in a pop-up emitter like that. You know, in a fitting like that.
I love this barbed fitting for connecting PVC schedule 40 pipe to corrugated. This is for four-inch PVC to four-inch corrugated. It isn't coming apart. It's not happening. It's a forever connection, guys, and you got to cut it off to get it off.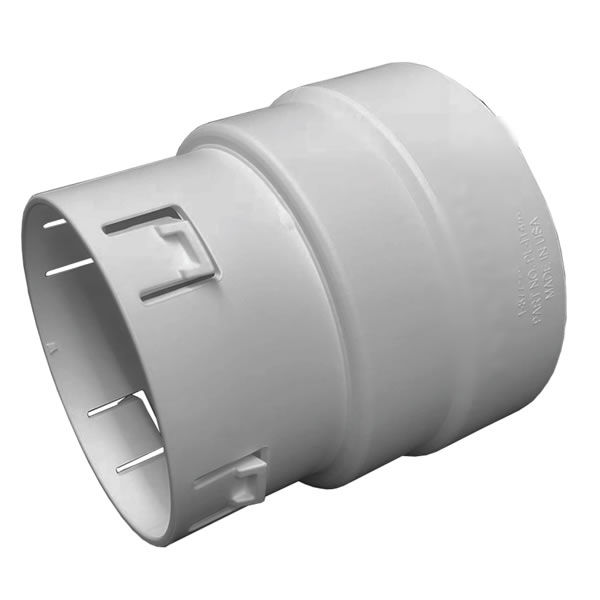 Shop FDM's 4″ Corrugated Pipe Adapter to 4″ PVC
Call French Drain Man: 248-505-3065
French Drain Man / Sherwood Landscape Construction, LLC
Headquartered in Downtown Almont
Mailing Address:
P.O. Box 777
Almont, MI 48003
248-505-3065
https://www.frenchdrainman.com
http://www.macombcountylandscaping.com
Follow us on:
YouTube.com:  https://www.youtube.com/c/frenchdrainman/
Facebook: https://www.facebook.com/frenchdrainmanusa/
Instagram: https://www.instagram.com/frenchdrainman