How to Build a Healthy Backyard for Your Family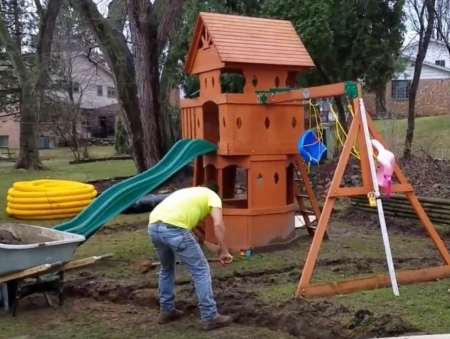 A healthy backyard means a dry backyard. In order to have a dry backyard, we have to achieve a few things. We have to have a really good roof runoff system so that we're running our roof, runoff water responsibly away from the house and having that discharged to the city curb. Somewhere where that is going to be taken away.
The French drain that we build with stone where we take out a lot of clay that is so that the yards dry out really, really fast and after the water is evacuated, we have so many voids in our trench. All of those High Octane pipes, you see us using, how we put four, five, six High Octane pipes. That's so that the air just dries out the yard. Those big voids, air moves through them. They move the water as soon as the water hits the ground, that's what's great about it. But the more dirt that you can dig out, that means the more Baughman High Octane that you can put in.
See, here's an old system. Somebody thought, let's just wrap the pipe with drainage fabric and then pour pea-stone in. Well, you see that we're here, the system didn't work. The homeowner spent money that was just wasted, unfortunately, could've gone into a good French drain as opposed to something like that.
So if you're going to hire a guy with a trencher who's not going wrap the stone and then he'll confuse you by saying, Oh no, I'm going to use a filter wrap and he's talking about a sleeve or a sock on the pipe. So I want everybody to be wise to that. If you're going to hire this done, tell him, look, I'm not talking about filter fabric around the pipe. I'm talking about lining the entire trench that you're digging and removing every bit of the clay that comes out. Don't put it back on top of the system.
So if you want a healthy backyard, your roof runoff has to be managed properly. You have to have French drains in place to dry up that yard fast. And if you have a sump pump discharge line, you got to make sure that you're getting that away from the house. You just can't be satisfied with it just dumping in the backyard. That's not safe for the children. We have all types of things in that Petri dish. When your backyard is holding water and as the temperatures get warmer through spring and summer, that's exactly what it becomes. A science experiment. Now your child's playing and God knows what. So it's really important that we cover those things. And I'm going to add one more thing to this. You are responsible for your neighbor's water and how that is if his yard is full of mildew and mold spores so that when you open the window of your home to let that what you think is fresh air in, it's not so fresh. It's actually quite dangerous. As far as the family, over half the population is allergic to mildew and mold. So I would recommend a perimeter drain to also grab up the neighbor's water.
All right, everybody, until that next video.
=======
Looking for a French Drain / Yard Drain Contractor in Southeast Michigan?
French Drain Man – Michigan's Yard Water Drainage Experts. Masters in the art of constructing contained French drain systems & curtain drain systems that and fix your yard drainage problems for years to come. Over 30 years' experience in solving yard water drainage problems in Oakland, Macomb, Lapeer, and St. Clair Counties.
French Drain Man / Sherwood Landscape Construction, LLC
4015 Van Dyke
Almont, MI 48003
248-505-3065
https://www.frenchdrainman.com
http://www.macombcountylandscaping.com
Follow us on:
YouTube.com:  https://www.youtube.com/c/frenchdrainman/
Facebook: https://www.facebook.com/frenchdrainmanusa/
Instagram: https://www.instagram.com/frenchdrainman