How to Build a Commercial Water Feature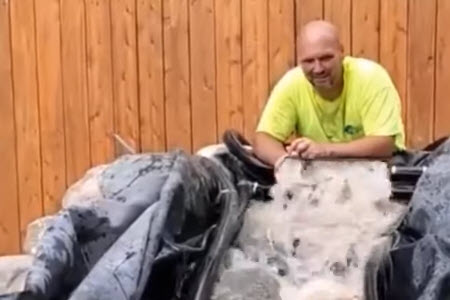 I'm running with Scott heading out to Lansing. Scott's got his dump trailer, well it's a gooseneck, he's got it full, full of cobblestone. I'm running the 10 ton so we can load up the equipment. We're going to finish up Zach's waterfall project, detail it out, give him a few pointers before we leave.
For those of you who are new to our channel in July, we sponsored a young contractor's project for the summer. He built a really cool water feature. We let them have our equipment when we had our shutdown during the 4th of July week. And it is just amazing what a 15-year-old, this guy you have to go to building with Zack and check him out. He's going to show you different videos during the build process and when he was younger he's got some really entertaining videos. He loves water. He loves water in motion. He loves controlling water.
He was in the comment section one night when we had a bunch of stuff going back and forth on our channel, French Drain Man. And I went and checked his channel out and I got a kick out of how much this young man loved working with water. So I told them I want to sponsor your summer project for this year. And I wanted to do something that was bigger than anything he's ever done before. And I knew he was up to the challenge and he did not disappoint. So I'm looking forward to many, many more videos from Building with Zach, and I know he's going to show you all kinds of cool stuff that he's doing with this big water feature that he had built.