Home Depot Leaf Filter Review from Veteran Contractor
In my 35 years as a contractor, I've seen a lot of structural damage. If you don't catch the water at the downspout and keep it caught, you risk all kinds of damage to your home. So when you install a downspout cleanout, vent, or a leaf filter you want to make sure it doesn't let the water go and splash on the side of your house. You want to keep the water contained.  Water containment is the main criteria I used when giving my Home Depot leaf filter review of Flex Grate.
We actually put every single downspout leaf filter to a test but I'm going to talk about the Flex Grate from Home Depot first.
In order to put it to the test, we filled a gutter trough with water and let it fall one story. We wanted to mock a rainstorm to see how everything's going to perform if there was a thunderstorm. So this is a one story mock up. Keep in mind that water would come down even faster from a second story.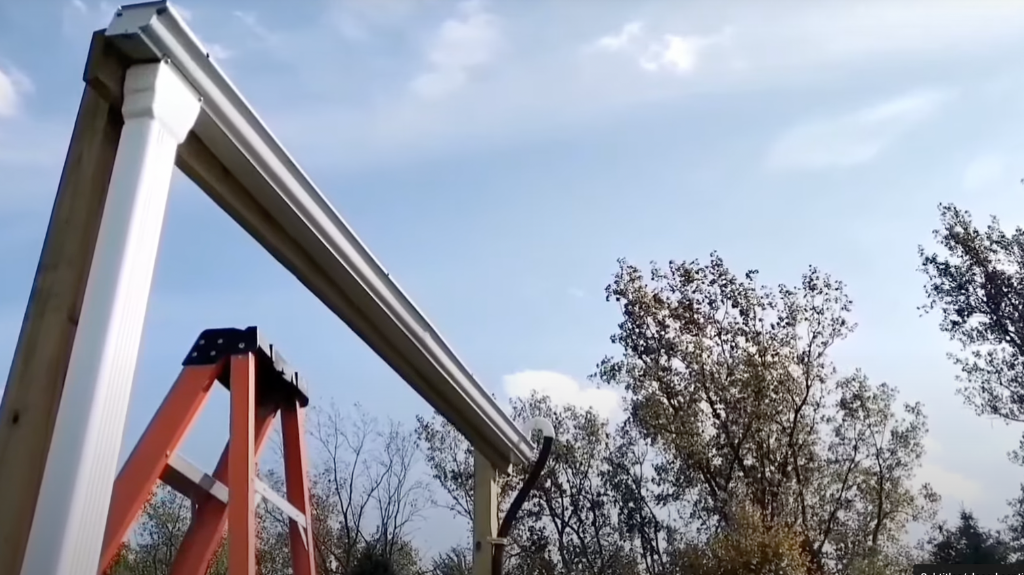 This Flex Grate leaf filter is supposed to filter out the leaves so they don't go underground in the downspout system. It's supposed to hit that grate, and the leaves are supposed to just fall out on the ground and the water's supposed to go through. I'm going to give you my honest opinion. This is the worst leaf filter on the market out of all we tested.
So in the ad, they'll have a trickle of water coming down the downspout and they'll show the trickle of water hitting the grate. But look at all this water spraying and splashing around. This is what will end up on the side of your home. This performs so bad, this is such a liability to the homeowners, and this is the leaf filter available in Big Box stores like Home Depot.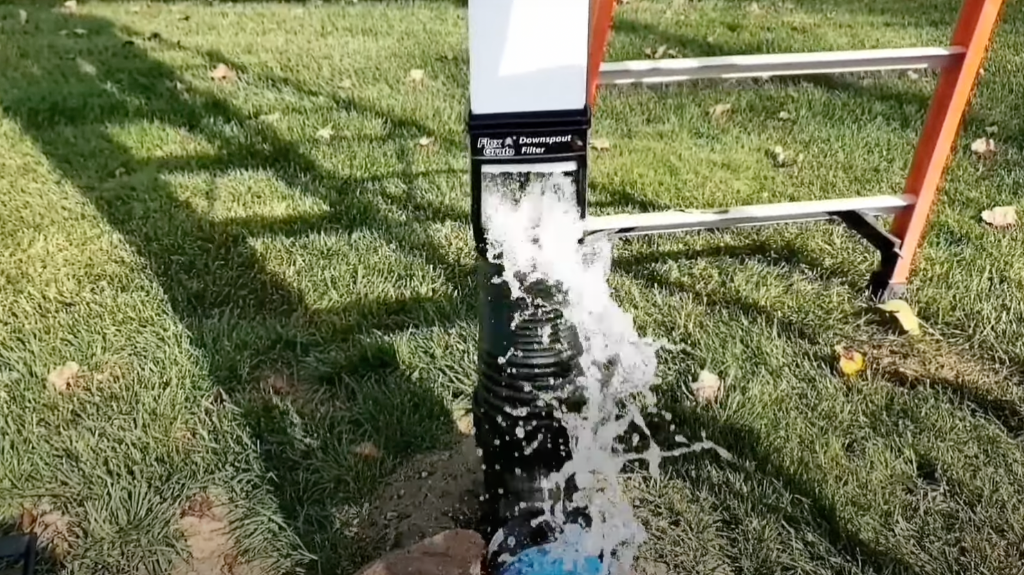 This is my opinion, and based on what I can tell as a contractor, if you have a hard rain that's flowing any kind of water, this is what will happen. Now, if it's a light, misting rain and there's just a little bit of water trickling down the downspout, maybe it will go through and stay contained. But I'm here to tell you, we tested all kinds of cleanouts and leaf filters with the same amount of water. We would do a stage one with light water and then a stage two with heavier water. And it doesn't matter how light the water is that's falling through the downspout, you're not catching all of it. Anytime you let the water go and then have to regather it, you're going to lose some water.
You're going to have spraying, splashing and you're going to end up with staining of the house, you're going to end up with mold, mildew, moss settling at the foundation. We know this. We see it week in, week out doing what we do.
Another problem with this Home Depot leaf filter is the sun eventually weakens the corrugated portion of it, and it just splits. It's cheap. It's made in China.
Coming Up with a Solution
When we design a new product, the idea always originates from us being dissatisfied with what's available to us as contractors. It always starts with us saying, "There has to be a better way." Our new downspout leaf filter is the latest example of this.
Fluid Dynamics
We took our vision as a contractor and worked closely with engineers to bring our downspout leaf filter and vented cleanout to fruition. After 3 prototypes, we perfected the fluid dynamics to where water just falls through the leaf filter without any splashing.  The water just free falls through the system. I wish I had this part my whole career.
Vented Cleanout and Leaf Filter All in One
First and foremost, this is a downspout cleanout, but we also built it as a leaf filter.
Removable Screen
This is the first time ever a clean out has a screen you can remove – if you want. Or just keep the screen in place.You can also put a camera, garden hose or heat cable through it so you always have access to your underground buried downspout system.
Made in the USA
Our products are made right here in our hometown of Michigan.
Keep Reading: DIY underground gutter drainage
Revolutionizing the Drainage Industry One Part at a Time
French Drain Man has been the authority on buried downspouts and yard drainage systems for over 35 years. We've revolutionized the industry by creating robust, low-maintenance solutions. Our goal is to bring industry first and better products to the market to make yard drainage easier and more efficient for both homeowners and contractors.
For a yard drainage solution that lasts, call French Drain Man at 248-505-3065!