Gutter Downspout Adapter for New Homes & Established Homes in Michigan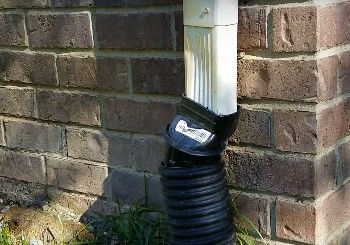 I've covered this in previous videos, but I never gave a field example.  I have always been in our in our yard where we have our inventory.  I've done a couple of videos and covered, but here I'm out in the field and I decided to go ahead and make a quick video and show you guys why I recommend on a new home, a new home that you're doing an underground downspout system. You use a downspout connector like this. It doesn't have the shoulder on it.
When this new home had the underground downspout system put in,  they went ahead and everything fit together perfectly. There's so much settling here in Michigan. We do basements here in Michigan. Ninety-nine out of 100 builds is on a basement.  So, when you dig a basement and you have a nine-foot basement wall and there are three feet from the house out so that men can work and do foot or tile and do waterproofing of the basement wall, and then when they're done, they backfill. When all this fill settles over the first few years, this is what happens.
This is fine using this downspout connector on an older home or home that's two, three, four years old, you're fine and older. These are fine because you're not going to get to settling. The reason why we like these connectors for new homes, they don't a shoulder where it just stops, it just clicks in so this what we do is we keep clicking and we get down in this pipe further.
When we experienced some settling in that first couple of years that you can expect, we can then when this is coming apart like this, I don't want to, don't want to do it because it's just barely catching water as it is, as you can see, but you can actually pull it up out of the corrugated pipe, snap it up a couple times and there you go. It's that quickly fixed.
For more tricks and tips for underground downspout systems, subscribe to the French Drain Man YouTube Channel. If you're looking for this service in southeastern Michigan, give us a call at 248-505-3065.