Growing Grass Over a French Drain System in Michigan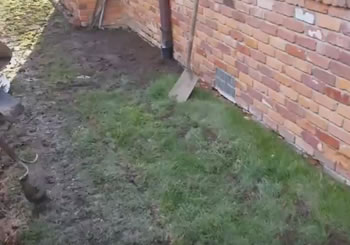 I get asked a lot, how do you grow grass over the French drain? I'm going to show you what we do. Basically we already have our pipe in, getting all the 6A in.
We're a little further along on the other side of the house. We're basically going to level the stone out.
We're going to lay the fabric over top so that everything is contained. This system cannot get contaminated.
All right, now on the other side here. So basically, we cut the sod back, leaving about two and a half inches of root on the side. And I'll show you what it looks like, When it's finished.
After all that construction and after dozens and dozens of trips up and down with wheelbarrows and foot traffic.
That pop up right there, that's just over top. That way any shingle gravel leaves, just end up in the grass, not in the French drain system.
Same with this downspout. That pop-up is just over top of the French drain. Fabric is around it. Sod is laid over top of it. Any shingle, gravel, leaves, debris that come off the rooftop Just ends up in the grass, the lawn mower mulch it, maintenance free.
For all your yard water solutions, give us a call.
For More Information on a French Drain System in Macomb County, Michigan
Sherwood Landscape Construction LLC
122 S Rawles St
Romeo, MI 48065
Ph: 248-505-3065
French Drain Man
"Yard Water Solutions"
www.frenchdrainman.com