Installing a Gravel French Drain in a Ditch to a Driveway Culvert – Bruce Twp, MI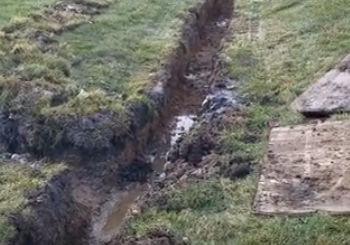 We are installing a gravel French drain system in Bruce Township, Michigan. We're installing this gravel French drain in a ditch bottom. You can see how the sump pump is running. It runs continuous. It leaves this ditch bottom saturated, and the lawnmower is always getting stuck in the ditch bottom.
So we're running a gravel French drain from where the sump pump discharges into the ditch into the driveway culvert. This is going to evacuate the water.  What happens is it lays in the turfgrass. There's not enough slope to move it efficiently enough. It hangs around and it causes soil saturation. Now, this is water from the surface, which is what I run into most of the time. This is not a situation where the water's coming up out of the ground and it's a subsoil issue, but we do want to lower saturation rate. So we went down 16 inches here. Got a 16 by 16-inch trench, and we're going to fill it full of stone. Not only are we going to evacuate the water and get it across this big yard all the way to the culvert under the driveway, but we're going to create a ditch bottom that can support the weight of a big commercial lawnmower with a 200 pound plus operator.
This is not a job for the NDS Easy Flow. It's not rated for vehicular traffic. It's light duty. It wouldn't hold up the lawnmower.  With a stone French drain, you can drive anything over this that you want – a car or truck, it wouldn't matter. The stone French drains are going to really create a firm ditch bottom, which is pretty unusual to have a ditch bottom that you could drive across. And it's going to evacuate the sump pump water quickly and swiftly.
For yard drainage of all types done right the first time in Bruce Township, Michigan, give us a call at 248-505-3065.