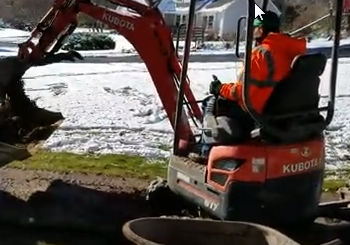 We are yard drainage contractors installing a French drain in North Oakland County, Michigan. We're taking that French drain to this storm drain catch basin. We'll dig down 18 inches and we'll core through 12 inches of concrete where we'll do a nice clean tap and use hydraulic concrete. We will put in PVC schedule 40 sleeve and then we'll attach our pipe to our French drain.
We have a plywood road in and out so that we do not damage the turf. When we leave a job, people can't even tell that we were here.
We have equipment that's track equipment. All of our machines have tracks versus wheels. A machine with tires, doesn't spread the weight of the machine and the dirt out.  A machine like you see here on tracks will only put down three pounds per square inch. It's a non-invasive way of doing projects like this.
Most French drain installers, when they come in and install a French drain, they'll use a trencher. They'll tear up the grass. Instead of taking a sod cutter and cutting the grass off and putting it aside the trench, like we do, and then installing the French drain. You can see we got some dirt put aside. That's where there will be some downspout runs, where we're burying the downspouts. That dirt is put on plywood so that cleanup will be really easy.  When we leave here you'll hardly be able to see where we worked. We advertise that we are full service. We're not like a dig crew or excavation crew for a plumbing company. A dig crew or excavation crew for a plumbing company will they tell you, hire a landscaper to detail the place out, let it settle. They leave the dirt all humped up and they say, just let it settle and hire a landscaper in the spring and the place looks terrible through the holiday season. There's really no need for it. They're not equipped to do the job right.
We come in, we install the French drain system, and we offer full service. We mend your sprinkler system. We go ahead and we put the grass back together. We compact all the dirt over the downspout system. We take one of our track machines since it only puts three pounds down per square inch. We can go up and down where the downspout is and pack the dirt in really nice.
For a full-service yard drainage contractor that takes care of all the details. When the little things matter, give us a call at 248-505-3065.
Subscribe to the French Drain Man YouTube Channel.