French Drain Installation Tips & Tricks for DIY'ers from The French Drain Man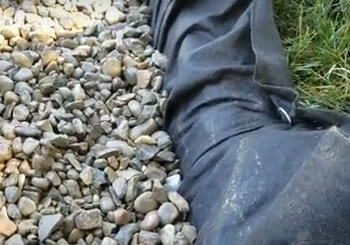 When you are trying to come up with a yard drainage solution a French drain is one of the most effective drain systems you can install to improve your property and your drainage of your backyard.
This is a French drain system going to a city storm drain catch basin where we enter the side wall of the storm drain catch basin so we can take care of the subsoil saturation. We want to lower the water table. You want to make sure you use the right fabric or really good drainage fabric. This fabric here, I'll move a 140 gallons per minute through a square foot of it so they're not going to see anywhere near that. It's a bit overkill, but we typically tend to overbuild everything so that we don't have any issues.
The drainage stone we use is not pea gravel, it's large aggregate. Then we go ahead and we fold this back. You know here's a little tip, always pin back the fabric on both sides of your French drain trench. That way when you're dumping in the stone, the fabric doesn't end up underneath the stone. Then you can just basically fold this and you're not really looking for that much overlap, just enough to pin it just to do what we call the stitch. You want to burrito wrap this.
You want to fully contain your French drain system. You don't need a filter wrap pipe. You don't want a filter wrap pipe for the inlet portion of a drain system. You want to wrap the entire system stone and pipe included. That's the right way to doing a French drain system.
Now, to grow grass on top of a French drain system, you just need two and a half inches of root. If you try to put any more than that on top of your French drain system, it won't take in water. We've built thousands of French drain systems and there's a yielding threshold to how much dirt you can put on top of them before they stop drawing in the water.
When looking for a professional yard drainage contractor, give us a call at 248-505-3065.