EZTEE and PVC TAPE for Corrugated Pipe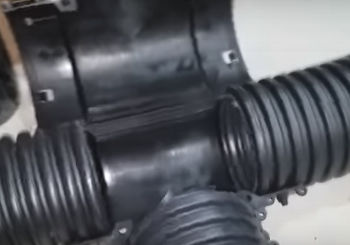 I want to thank Agri Drain for shipping me some EZTee to check out. I'm going to share that with you right now.
All right, so Megan from Agri Drain sent me these. Appreciate it. All right, so EZTee. What's cool is they stack. There's a bunch of them in this box and they don't take up any room at all. So that's, that's neat right there in itself.
All right, so that's what it looks like. Okay. That's your EZTee. It hinges. All right. But does it work? Is it quick? Is it fast? Is it productive? Is it convenient? All right, so I have three pipes here and you can see there in the EZTee. I'm gonna show you how this works, Done. I like it. I like it a lot.
All right. And I'm still getting a lot of calls. People are asking, where do you get your PVC tape? Where do you get your tile? Tape your agricultural tape? Give Agri Drain a call.  Order your tile tape, order your EZTee.
Ask them for a catalog. I just got my new catalog. I'm loving it. All right, so their phone number in the United States is (800) 232-4742.  Outside of the United States call (641) 742-5211. If you want to learn more about yard drainage, Subscribe.
If you're looking for yard drainage service and you want professional grade contractor's, licensed builders, master plumbers, a great network of guys that get the job done and get it done right the first time. If you're looking for that service in North Macomb, Michigan or North Oakland County, Michigan, give us a call at 248-505-3065.