Evaluating Residential Property for a Yard Drainage System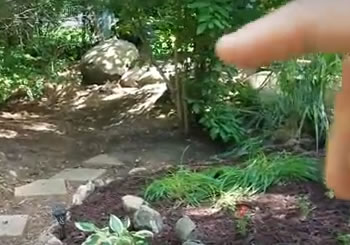 I just got done doing an evaluation with the homeowner and now I'm going to price out a system. Just wanted to show you how we troubleshoot a yard with drainage issues.
I have a downspout coming off the corner. It's taken care of two stories of water. So that's a lot of gutter trough and that's dumped measuring wheel is. That's pretty much where the problem starts.
Now the water does run downhill, but we have all this water coming off of this elevated patio. So you can see how tore up this is and how muddy it is just from the family pet.
So, what we're going to do is we're going to do a French drain main pipe here. I'll come up with a feeder pipe and then do like a horseshoe if you will, catch all that water, funnel it right into the French drain main.
Then we run into a damming effect due to a landscape treatment. We have water just ponding here. That's okay. I mean somebody that didn't know nor have a background in drainage, did some landscape work. It's not a big deal. It's going to take a French drain system. We're going to go around the landscape treatment, that way we're going to divert the water back into the swale.   Then we can just discharge it right here and send it in the direction that it was intended when this land was developed for build.  The developer had it all mapped out. It was engineered. The builder didn't do anything wrong. The developer didn't do anything wrong.  Just when we put landscape treatments in her backyard and we build these big beautiful structures that carry a lot of water off the top then at the base it ends up pretty saturated. We just need some French drain pipe. It's not that big a deal
For French drain system, dry well, sump pump line, curtain French drain, perimeter French drain, give us a call at 248-505-3065.