Drainage System for Roof Runoff Water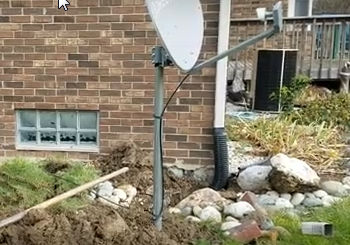 We're installing an underground drainage system for roof runoff water. This home just had a couple of these. There are basically an easy, inexpensive way for homeowners to try to get the water away from their house. You can get them out to like 10 feet in length. It's a horrible idea. Stay away from them. Don't buy them. Plus the sun dries them out and they split right in here. We're trying to get the water away from the side of this house. It's pretty flat in here. That one downspout is going to ran 95 feet.
In a two-story house, we're going to be at about 9 PSI in a moderate rain by the time we get to the bottom. That's pretty good. I like that. I'm really happy about that. Now, really, really heavy rain, that increases. The higher the volume of water, the more pounds per square inch.
We are using dual wall corrugated pipe. It's smooth on the inside corrugated on the outside. In Michigan, you want a pipe that can withstand the freeze and thaw cycles. So, the corrugated pipe allows it to be flexible.  But when you buy the dual wall, you reduce the friction. The shingle gravel just rolls right through. It's not a problem.
We connect to the house using a single wall so that we can make this beautiful sweeper 90. Then we use our tile tape. We don't use a silicone, don't use silicone on an outdoor drain system. It's a ridiculous suggestion. The guys that are doing show their level of expertise right there.  The tile tape lasts for 100 years. It's super sticky, super stretchy. That's what you want to use, and this is dual wall. Look at how it made that bend right there. It'll make a soft bend like that. It won't make a sweeper 90 like that, so that's why we use single wall corrugated, and then we go ahead and use that tile tape. Again, smooth on the inside corrugated on the outside. I can't emphasize enough.
This comes on either a roll or in 20-foot lengths. Now, if you notice in our videos, you see it in 20-foot lengths most the time. The reason why is because when it's on roles, it's a little thinner. So to get this to roll up, it has to be thinner and we like the heavier wall. We like a thicker, heavier pipe for our climate.
For an underground drainage system in southeastern Michigan done the right way, give us a call at 248-505-3065.