Don't use a drain sleeve pipe sock with a French drain system in Michigan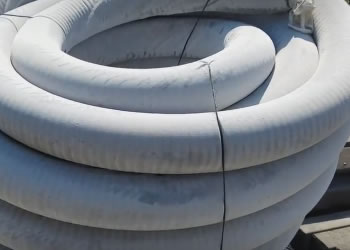 This is a roll of pipe with a sock on it. When you're gathering quotes for a french drain in Michigan make sure not to go the contractor using pipe with a sock on it for a french drain system in a residential backyard. For taking care of your surface water in your yard you want a pipe that does not have a sock on it and you want to line trench so that your stone does not migrate into the subsoil. And the subsoil doesn't migrate into the stone, plugging the system.
Sure, this drain might work for a little while, but slowly over time it's going move less and less water and eventually quit.
For More Information on A French Drain System in Michigan
When doing it right the first time matters, give us a call at 248-505-3065.
Sherwood Landscape Construction LLC
122 S Rawles St
Romeo, MI 48065
Ph: 248-505-3065
French Drain Man
"Yard Water Solutions"
www.frenchdrainman.com
.