Do NOT Use Pea Gravel, Pea Pebble, Pea Stone When Building a French Drain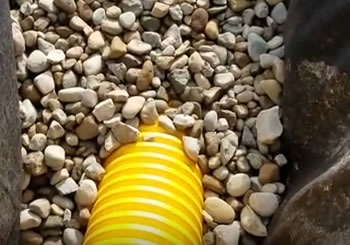 When building a French drain, you want to use a coarse rock that has been screened and washed. The rock that you see in this French Drain is 3/4″ and larger. You end up with large voids that'll move far more water. And this drain, from new, is not built with any contaminants.
Now, I have a couple bags of pea stone here, and this is what a lot of the contractors and homeowners use.  You can see, the voids are really small. It's not going move water like the larger stone. And it's really filthy. There's a lot of sand in peastone. Peastone is, this is a clear bag. But there's so much dirt in this bag of peastone, I mean you can just see it.
So you're building a French drain system and you're trying to build it so that the pipe doesn't get plugged. And right from just the very beginning, you're going to have contamination because of how filthy the pea stone is. The pea stone is actually the byproduct of when they screen for this larger stone and wash it.
For french drain system built right the first time, give us a call 248-505-3065.