Do NOT Use a Retractable Gutter Downspout Extensions in Michigan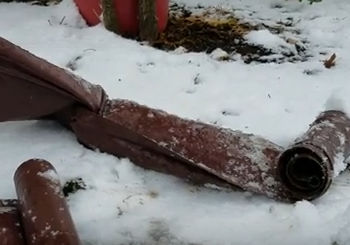 Never install these retractable gutter extensions in the north. These are frozen up. We're here in Michigan. We're installing an underground drainage system for gutter downspouts. We're gonna use a corrugated pipe. We're going to be using a lot of dual wall corrugated four-inch pipe to retractable gutter extensions that just freeze up here in the north.
We just took this blower and cleared some snow away so that we can take the sod cutter and we cut the sod right here. We take two and a half inches of root off. That way it's easy to handle. Remove all that, and we're going to take dual wall pipe right to the end here where we have a lot of drop.  And, then we're going to put a six-inch catch basin there so they can clean out the shingle gravel.
The reason why I want to use dual wall, I do have a lot of fall on this run and I could get away with just using single wall corrugated pipe, but right here all the velocity that we built on this gravity powered system was lost right here, and this is where the leaves of unplugging this downspout system as well.  So the homeowner went ahead and put leaf guards on the gutters. So, we're going under the cement hygiene landscape engine right now and we'll be installing the pipe here shortly.
If you're installing an underground downspout system, your diy guy, and you live in the north, this is the YouTube channel. If you're looking for the service in North Eastern Michigan, we are your guys. Give us a call at 248-505-3065.