Discounts for yard Drainage, Crawl Space, and Basement Contractors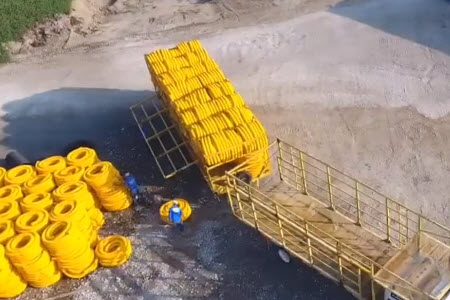 I want everyone to know that we had a lot of things that we were out of stock and I know folks are waiting on certain things. We are fully inventoried. I want contractors to know that they can call Scott. I'm going to leave that information here for you. Scott's been giving quotes to contractors who want to use the Baughman Tile products and they want them shipped to their shop, their yard, their home. Anybody who's buying a lot of this material because they do this for a living. Scott is giving you contractor discounts so I want to make sure that you're aware of that.
I realize that we're almost out of High Octane but you know, don't fear, we're bringing in all of this yellow eight slot for you guys. So this fall we're going to have enough drain tile. We're going to have enough to take care of you guys until the winter and then during the winter in the South, I know that you're still putting drains in. We are going to be shipping for you guys and DIYers as well. And again, if you know you're going to do something this winter in the South, we're almost out of the High Octane. So I'm just making mention of that in the event that that is the pipe that you want to use. Either way, we're going to have the quality Baughman Yellow Premium. This, here again, we're bringing it in on a regular basis and we're going to stay inventoried. We're going to have the solid for discharge lines and downspouts and the Virgin yellow. We're going to have the black solid, we have knife cut for your leach fields. We're covering all the things that you see us use. We're going to have all that and keep it in stock.
Whatever we use, we're always going to have that. And I know that things were really, really busy and we were blowing through the coils and we had to put out stock on a couple of items in our store. So I just wanted everybody to know you can go back to our online store at www.frenchdrainman.com. Go ahead and buy your Baughman 8 slot, 4 slots, staggered, solid yellow Virgin. You know, the Bachman gold, the premium that we all love.
We got all the Baughman fittings as well and contractors. I can't encourage you enough to talk to Scott, talk with Scott and there's a lot of you out there that have already bought a lot of products from us and we want to say thank you and we're going to keep you supplied. Scott's going to take care of you. And as you've learned, when you have several skids going to one address, the shipping gets really reasonable. And when you start figuring out per coil, it's not that bad. And the fact that we can fill all these coils, well that's just a giant goodie bag for fittings and all kinds of things. Anything that you guys see us using, we can get that for you.
I want to make everyone aware. We're going to keep doing this year-round. We're going to have the material. And the only thing that is a limited run is the High Octane. We're looking forward to having High Octane next summer again and doing another big run. But you know, for now, we're going to wait until probably February for that run. Maybe not get that pipe in our hands till about March.
So here you guys go, U S this is, this is the gold. You're going to start seeing it in all our videos and we're going to show you more and more how to use it.
Let's all just build it right the first time. Please like, share, and until the next video.