We're working at a commercial building in Rochester Hills, Michigan. We're in an industrial plaza and this is going to be a big commercial drainage system. Since we have to make sure Edison trucks can drive here to service the wires and things like that, we're putting in the Baughman Tile Company's mini culvert Pipe. Man, look at these giant inlets. It's just amazing.
For these big giant commercial runs, we're going to go right to six inch virgin premium yellow drain pipe for its strength and durability.
Previous Drainage Issues
They were getting water in their building in Rochester Hills.
There's so many downspouts down the side of this commercial building. The building next door has some really cheap (the kind of garbage you buy at Home Depot) drain pipe. I don't even know where that garbage is being ran. So in any case, so much water gets trapped between these two commercial buildings that the building, the client that we are representing today, they're getting water inside their business.
FDM Crew Installs Heavy Duty French Drain and Roof Runoff System
So look at those big downspouts, man, that's a four by six by six, baby, that moves some water. So we're going to do a combination, we're going to drop that six inch solid for the roof runoff system and a big trench here with a six inch perforated.
And the guys, they pulled the fence apart so that we can get this install in. And so we got our 18 inch bucket on right now for this. The breakout is even wider, so we got an 18 inch bucket, it's going to break out about 22 to 24 inches. We got a storm that we're going to core over there. So we have permission from the owner of that manufacturing shop.
We'll go over there and make our core and tap real soon because we're just about done with the dig back here. All right, so the guys are taking a six inch by six inch, 90. They're using the tile tape. This is the solid gutter runs. We got these monster clean outs. We have a six inch crate that we drop in, works out really nice. The guys dug a trench, that's big enough for two, six inch pipes because once they get past those two downspouts right there, then we go into a French drain with the downspout pipe. So we're going to have two, six inch pipes side-by-side. The six inch pipe is so strong, that Baughman Tile makes, that you can drive semi-trucks over them.
It is our mini culvert pipe. That's what we refer to it as, here in Michigan, there's nothing stronger. There's no single wall, six inch pipe stronger than the Baughman six inch virgin yellow pipes. When it's yellow on the outside and kind of clear on the inside, you know it's not recycled material, that's just painted black. Okay? Because that is a thing that's referred as coax, when they take the recycled pipe and they paint it yellow. This is the true virgin yellow. This is all we're using. This is all we use. We use virgin pipe. Why do we want the virgin pipe? It's stronger than the recycled pipe. There's longevity to it that's far beyond recycled pipe that's made out of recycled food containers, basically made out of trash. So of course a pure material, a true virgin material is going to last and hold up, be stronger. You're going to see what a monster pipe this is. I mean, it's just absolutely ridiculous.
Look at this thing.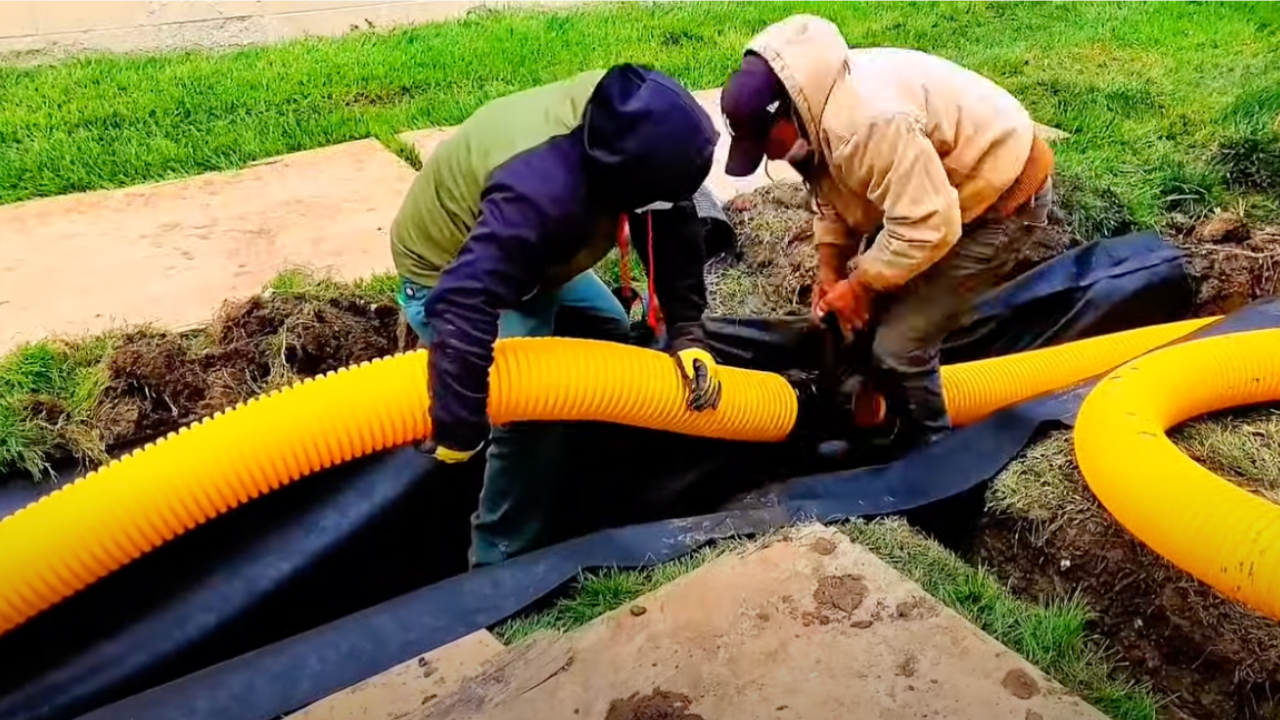 And yes, we have figured out how to ship this monster with the help of UPS, our partners, look at that thing. Just love this pipe. This pipe is so incredibly strong. This is commercial right here. This is heavy commercial, what we're doing here. Because they drive trucks between these two buildings to service things, so we got to make sure that a heavy duty Edison service truck can come in here without damaging the roof runoff system and the French drain system that we're putting in.
Need a Commercial Drain System Installed in Rochester Hills?
French Drain Man has over 35 years of experience solving yard water drainage problems throughout Michigan. When you want it done right the first time, call: 248-505-3065.