Bloomfield Hills Sump Pump Installation for Estate Home
We're in Bloomfield Hills, Michigan installing a sump pump on an estate home. Really big yard, really big patio. There's a walkout and there's a pit patio. You walk down into this area before you can enter the walkout. All the water runs down these tiered beds. All this water that falls in this giant entertainment area, this beautiful, beautiful courtyard setting, it's going to be a beautiful paver patio.
We're putting two of our Full Frame Bad Seed Sump Pump Systems in with heaters. We added 20 feet of chamber. This is going to be a really cool drainage system. We ran all the roof runoff to this system. All the roof runoff on the back of this house, we're going to pump it through our two Bad Seed Full Frames. This is going to be a lot of fun.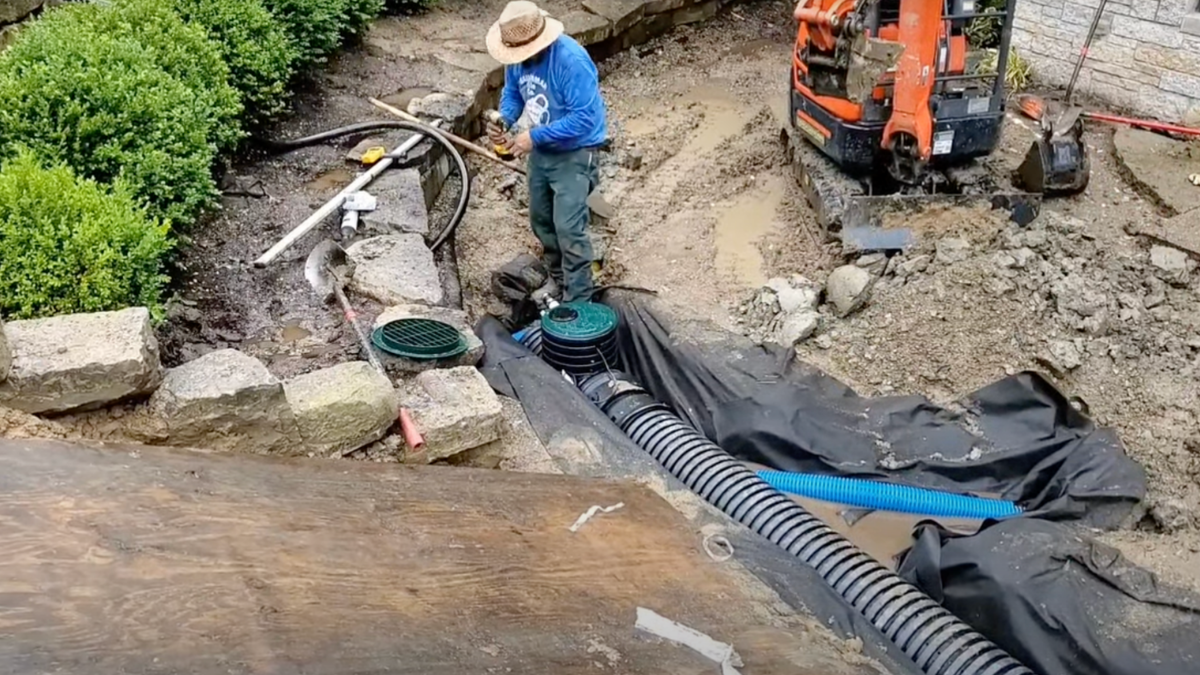 We're going to discharge this to a six-inch corrugated pipe. We're going to have a backflow preventer on it so that if the lake levels or the river levels go up, it doesn't back-feed into our discharge line. So I'll show you how that works. We're going to give you some results. We're going to show you what it looks like when two Full Frame Bad Seed Sump Systems are running. These two big bad outdoor sump pump systems are going to really move some water.
We caught this during a torrential rain, and we were able to put together some video for you guys. I hope you enjoy it. Again, this installation was two outdoor some pumps. These two systems are Full Frame Bad Seed Outdoor Sump Pump Systems. You can see that we build these the same way we build our French drains. We dug out all the dirt. We put in the fabric. We put the sump systems on the fabric, and then we went ahead and we filled it in with one and a half inches, in diameter, round rock for really big voids so that the water flows freely. We're going to be catching a lot of bulk water off this beautiful estate home. There's going to be a lot of bulk water coming off the roof.
Bloomfield Hills Sump Pump Installation Experts
Contact French Darin Man – Michigan's leading drainage experts.
We bury downspouts, build roof runoff systems, French drain systems, yard drain systems, sump pump discharge lines. We dig ponds. We are the excavation underground drainage experts, sewer lines replaced and repaired.
Call (248) 505-3065 and schedule your sump pump install today.