99% of Yard Drain Systems will Include a French Drain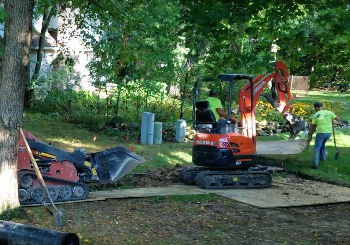 99 out of 100 residential yard drain systems are going to include a French drain. We're up high on a hill. All the water collects right in the swale between the yards. You can see this yards built up to a big collection area. We've got a couple of points where a tree has raised the grade creating a bit of a dam to the catch drain. That's a storm drain catch basin in the corner right there.
We have a great collection area, but we've got water standing. What we're going to do is we're going to dig out a trench to remove all that heavy soil. We're going to haul it off-site. We're going to fill that channel with stone. Nothing takes care of a yard water problem better than stone.
For a French drain, a real French drain, a stone French drain, give us a call at 248-505-3065.
For more information about yard drainage problems in Macomb, Oakland, Lapeer or St. Clair County, Michigan, give us a call at 248-505-3065.
Be sure to visit the French Drain Man YouTube Channel and subscribe.